Air dried organic sweet potato powder.
Easy to use, store, and take along — healthy and all natural.
Powdered organic sweet potatoes.
Color can vary from light yellow to deep orange.
Excellent source of vitamin A and C.
No sulfites.
Not genetically engineered.
Cook before consuming.
Due to the nature of this product, powder may need to be broken up before rehydrating or adding to recipes.
Certified Kosher by Blue Ribbon Kosher. See the North Bay Kosher List.
Organic sweet potato powder certification: Certified organic by MCIA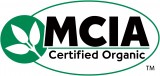 Ingredients: Organic sweet potato, rice hull (2% max).
Common uses: Like many of our air dried vegetables, dried organic sweet potato powder is often used in side dishes, baked goods, soups, stews, and casseroles.
Packaging: Bagged selections are in resealable poly bags. Bulk box orders use sealed plastic bag inside sturdy cardboard box.
Air Dried Organic Sweet Potato Powder
Easy to Prepare
Add air dried organic sweet potato powder while cooking side dishes, casseroles, and other foods with sufficient liquid content.
For most other applications, hydrate using 1 part dry organic sweet potato powder and 5 parts water before cooking.
Bring to boil and let simmer for 10 minutes.
Add more water as needed.
Yield — 1 oz equals about 1/4 cup dry.
Rehydration Ratio — 1 lb of air dried organic sweet potato powder, once rehydrated, equals approximately 3 lbs of fresh prepared product.
Storage — Best if used within 18 months. Store tightly sealed in a dry location away from sunlight.
Nutrition Facts
Serv.Size 1 oz (30g)
About 1/4 cup
Servings Varies
Calories 115
Fat Cal. 4
*Percent Values (DV) are based on a 2,000 Calorie diet.
Amount/Serving
%DV*
Amount/Serving
%DV*
Total Fat 0g
1%
Total Carb. 27g
9%
Sat. Fat 0g
0%
Fiber 2g
9%
Trans. Fat 0g
Sugars 9g
Cholest. 0mg
0%
Protein 1g
Sodium 35mg
1%
Vitamin A 299% • Vitamin C 28% • Calcium 2% • Iron 3%
Please contact us for specification on this product.
If you represent a food manufacturer and would like to open a wholesale account, please email us with your business name, documentation of your business, the product(s) you are interested in, your first order quantity and timing, and projections for future orders.