North Bay Trading Co's facility is certified for organic handling and distribution.
We work with third party certification programs, partner growers, and vendors to ensure our organic food products are genuinely organic. We have current certification with MCIA.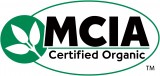 The organic crop production standards state:
Land will have no prohibited substances applied to it for at least 3 years before the harvest of an organic crop.
The use of genetic engineering (included in excluded methods), ionizing radiation and sewage sludge is prohibited.
Soil fertility and crop nutrients will be managed through tillage and cultivation practices, crop rotations, and cover crops, supplemented with animal and crop waste materials and allowed synthetic materials.
Preference will be given to the use of organic seeds and other planting stock, but a farmer may use non-organic seeds and planting stock under specified conditions.
Crop pests, weeds, and diseases will be controlled primarily through management practices including physical, mechanical, and biological controls.
When these practices are not sufficient, a biological, botanical, or synthetic substance approved for use on the National List may be used.
The organic food handling standards state:
All non-agricultural ingredients, whether synthetic or non-synthetic, must be included on the National List of Allowed Synthetic and Prohibited Non-Synthetic Substances.
Handlers must prevent the commingling of organic with non-organic products and protect organic products from contact with prohibited substances.
In a processed product labeled as organic, all agricultural ingredients must be organically produced, unless the ingredient(s) is not commercially available in organic form.