Employment Opportunities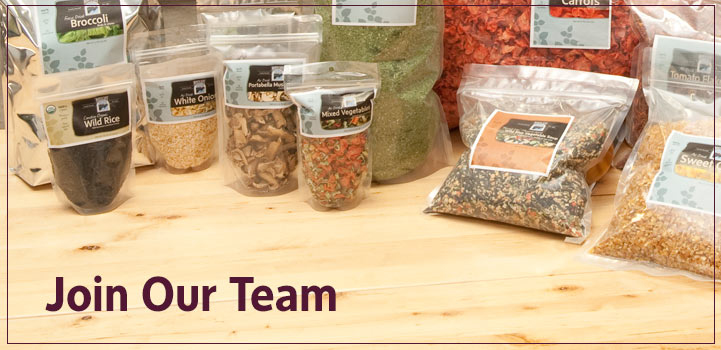 Established in 1987, North Bay Trading Co. is a family business which delivers high quality food to commercial and retail customers.
We are based in Brule, Wisconsin and achieve nationwide results with small business efficiency.
Why Work With Us?
We offer flexibility, a good benefit package, and operate with progressive business strategies. Learn more North Bay Trading Co.
August, 2021: We have 3 open positions: (1) Customer and Vendor Support Specialist, (2) Sourcing and Merchandising Coordinator, (3) Produciton and Warehouse Employee.
Customer and Vendor Support Specialist
Position Summary
Join the entrepreneurial team at North Bay Trading to perform the lead role in customer service and provide administrative support for vendor activities.
Key Responsibilities
Manage and execute customer order processes
Lead customer communications
Resolve routine complaints. Elevate complicated issues to management for review as necessary before responding.
Communicate with vendors' customer service to obtain and archive product data
Manage daily parcel shipping activities
Assist in the record keeping of general office documents and correspondences
Manage and Improve the documentation of customer service protocol and product food safety documentation.
Major Functions
Process incoming orders using computer applications including email (Outlook), CRM (Act), Office (Excel, Word), customer invoicing (Microsoft Dynamics GP), and e commerce customer order fulfillment (Magento 2 and Amazon Seller Central)
Answer customer service questions from commercial and retail customers by phone and email
Assist with filing vendor order details
Manage the vendor verification checklist and monitor vendor product performance relative to specification. Help ensure Company is compliant with requirements of SQF, Organic, and Kosher.
Update, maintain, and disseminate product specifications and Certificates of Analysis (COA's)
Manage everyday shipping and logistics
Participate in food safety/quality programs and mock recall exercises
Assist with system and documentation updates to accommodate vendor, product or ingredient changes
Requirements/Qualifications
Ability to prioritize issues and switch between tasks frequently
Likes working in a fast-paced environment
High attention to details
Strong communication skills
Values the challenge of investigating and resolving issues.
Experience working with computer applications including Excel
Willingness to work extra hours during peak periods or staff shortages
Important Bonus Qualifications
Business customer service experience and training
Schedule
Full time Mo-Fri 7:30 am to 4pm in Brule, WI
Compensation
Starting wage in the range of $15-21 per hour; commiserate with skills and experience, plus Paid Time Off (PTO), Holiday pay, Company bonus program, HSA contributions, and Simple IRA match

Sourcing and Merchandising Coordinator
North Bay Trading Co is a nationwide supplier of dry, healthy food ingredients with a strong e-commerce strategy. E-commerce is managed on two platforms – Magento 2 and Amazon Seller Central.
While this job description sounds big, the Company is small with people managing a variety of on and off responsibilities with small business efficiency. The right candidate will have a high degree of initiative, like a variety of important work, and value having an impact on Company performance.
Position Summary
Execute a lead role in product sourcing, development, merchandising, fulfillment planning, and food safety programs. Also, provide support to customer service as needed, especially for commercial accounts.
Responsibilities Related to Sourcing and Food Safety
Inventory management – Assist with acquiring food ingredients and packaging materials; monitor inventory levels and trends; develop and execute re-stocking plans; oversee electronic filing of vendor and product data; and manage logistics.


Product packaging and label management - Maintain current product packaging and labels ensuring compliance with food labeling guidelines, develop new product packaging and labels including new images for e-commerce listings, and work with product packaging vendors to update existing and create new packaging.


New Products management – Collaborate in a team fashion on the evaluation of new vendors and the development of new products and product variations to expand product lines.


Foreign vendor order coordination – Assist with importing from foreign vendors including order development, import document processing, logistics coordination, shipment acceptance, and product testing.


Participate in the food safety committee to improve and execute food safety programs, including leading efforts in Approved Product, Approved Vendor, Management Review, Food Defense, Food Fraud, Recall, and Crises programs. Become one of the Company's leaders in the SQF food safety program by training in GMP, HACCP, and FDA PCQI principles.
Responsibilities for www.northbaytrading.com "NBT" and the Thousand Lakes "TL" Amazon program:
E-Commerce advertising – For NBT, monitor the outside consultant handling Google AdWords, Google Shopping, and Bing advertising. Report to President performance and return on investment. For TL, actively manage the Amazon ad campaign performance, implement new campaigns, add new keywords or negative keywords, and add new products to existing campaigns.


E-commerce listing management – For NBT, maintain, create, and audit accuracy of product listings in Magento, plus assist in the general administrative maintenance of the NBT e-commerce technology stack. For TL, optimize Amazon listing/search performance, comply with policies, update product descriptions, develop new product listings, maintain the TL Amazon store pages, and resolve Seller Central listing issues.


Promotional program management – Monitor performance of NBT programs including weekly email campaigns designed by outside consultant. For TL, directly manage programs such as coupons and Subscribe & Save.


Competitive analysis – Study competitive listings, performance, and pricing. Identify competitive challenges or opportunities. Recommend responsive action, if any, to management.


Product price management - Manage product pricing for both NBT and TL products responding to vendor cost changes, competitive conditions, and company profit objectives. Product price management includes recommending changes to management, implementing approved changes, and maintenance of pricing analysis tools.


Fulfillment management – Collaborate in a team fashion to develop and execute re-stocking plans, monitor for excess units and inventory aging to make recommendations for promotional programs, and provide backfill support for procurement activities.


Product volume reporting and analysis – Work with Accounting staff to track weekly revenue trends, identify changes in sales performance that indicate opportunities or challenges to be addressed, watch sales activity as a guide to make sure inventory is being replenished.


Customer feedback and returns – Monitor customer feedback responses (star ratings and comments), formulate responses/replies in cooperation with customer service staff, plus track and report sales returns volumes.
Other Responsibilities - As assigned by the President.
Requirements/Qualifications

Great at prioritizing work efforts and switching between tasks.
Strong ability to manage online product portfolio and online advertising.
Aptitude to develop and manage e-commerce business processes.
Excellent writing skills.
Strong attention to detail and skilled in math computations.
Willing to problem-solve within a team environment.
Accuracy in keying data into software (accounting, e-commerce, and CRM).
Excellent working knowledge of Excel and Word.
Comfortable with e-commerce computer processes and platforms.
Willing to work additional hours during staff shortages and/or peak business periods.
Work a schedule of 7:30 am to 4 pm at Brule, WI location.
Compensation: $24 - $32 per hour and commensurate with skills and experience. Eligible employees receive paid time off, holiday pay, simple IRA match, HSA account contributions, and possible incentive pay.

Production and Warehouse Employee
Position Purpose
Work onsite in Brule, WI to package dry food products, box orders for e-commerce and wholesale trade, move inventory, record inventory details on paper forms, and perform maintenance tasks as qualified.
Major Functions
Package and box natural food products using both simple machinery and manual methods
Move and arrange inventory utilizing a cart, rolling ladder, and a pallet jack
Assist with facility / grounds cleaning and maintenance
Follow work instructions and polices related to the Company's food safety program
Follow detailed written instructions and document work activities on checklists
Other warehouse and maintenance projects as assigned
Secondary/Bonus Functions
As qualified: Operate compact wheel loader to unload trucks
As qualified: Drive a box truck to shuttle inventory short distances (CDL not required)
As qualified: Drive pick-up truck, compact wheel loader, and skid steer to assist with grounds keeping duties as needed, including snowplowing
As qualified: Perform maintenance and repair on buildings and equipment
As qualified: Manage HVAC, plumbing, and other 3rd party specialty contractors as needed
Requirements/Qualifications
Self-motivated hard worker
Likes to work on their feet in a fast-paced environment
Clean driving record
Can accurately check and log details on papers and forms
Will follow food safety hygiene policies, clothing requirements, and work processes for food processing.
No conditions of communicable disease which present a food safety risk in handling food
Can perform physical work including lifting 50 lbs. and rolling loads on the floor with pallet jack.
Is physically agile and comfortable in accessing high shelving areas with rolling ladders
Values maintaining a clean and organized work environment
Willing to work extra hours during peak periods or staffing shortages
Schedule is negotiatable in the range of 24 - 40 hours per week
Willing to come in early or stay late to help with snow removal
Warehouse and/or food industry experience a bonus, but not required
Compensation
Wage $12.00 to $19.00 commiserate with skills and experience. Eligible employees receive paid time off, holiday pay, simple IRA match, and HSA account contributions.
General Company Schedule
Mo-Fri 7:30 am to 4pm
How To Apply
Please email us at hr@northbaytrading.com
If you want to submit an application in your initial contact instead of or in addition to a resume, here is a pdf of the North Bay Trading Job Application to be emailed to hr@northbaytrading.com.